Violent Is the Word for Curly (Short 1938)
#violentisthewordforcurly1938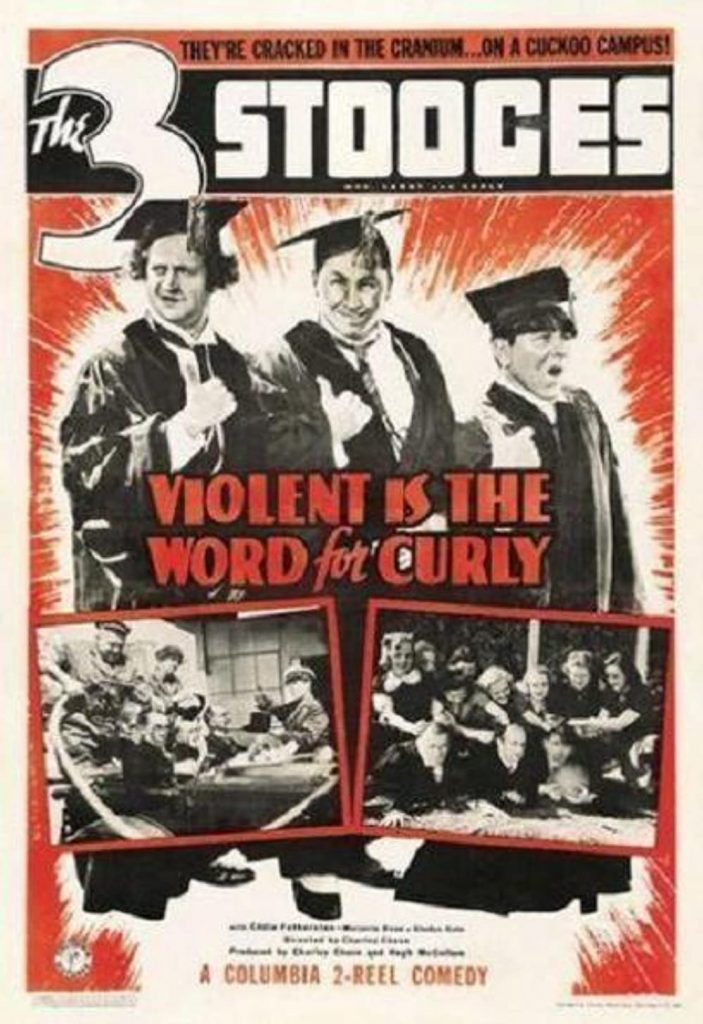 Violent Is the Word for Curly
1938 · Not Rated · 18min · Black and White · English
THEY'RE CRACKED IN THE CRANIUM...ON A CUCKOO CAMPUS!
Three bumbling gas station attendants are mistaken for college professors arriving from Germany to teach at a prestigious women's college.
IMDb rating - 8.1/10 from 782 users
Genres - Comedy · Short
Director - Charley Chase
Writer - Al Giebler(story & screenplay) · Elwood Ullman(story & screenplay)
Stars - Moe Howard · Larry Fine · Curly Howard
Story line - The stooges are left in charge of a gas station and manage to blow up the car of their first customers, three famous European professors. The stooges steal some of the academics' clothes and wind up at "Mildew", a women's college where the three professors are expected. Mistaken as the real thing, the boys take their place on the faculty. When the real professors show up, the stooges try to convince a rich woman, the schools benefactor, that an athletics programs is more important. Their athletics demonstration comes to an explosive end when the real professors slip them a nitroglycerin basketball. —Mitch Shapiro <mshapiro@a.crl.com>
Release date - July 2, 1938 (United States)
Countries of origin - United States
Also known as - Curly el violento
Production company - Columbia Pictures
Sorry, there was no activity found. Please try a different filter.