Ticker (Short 2002)
#ticker2002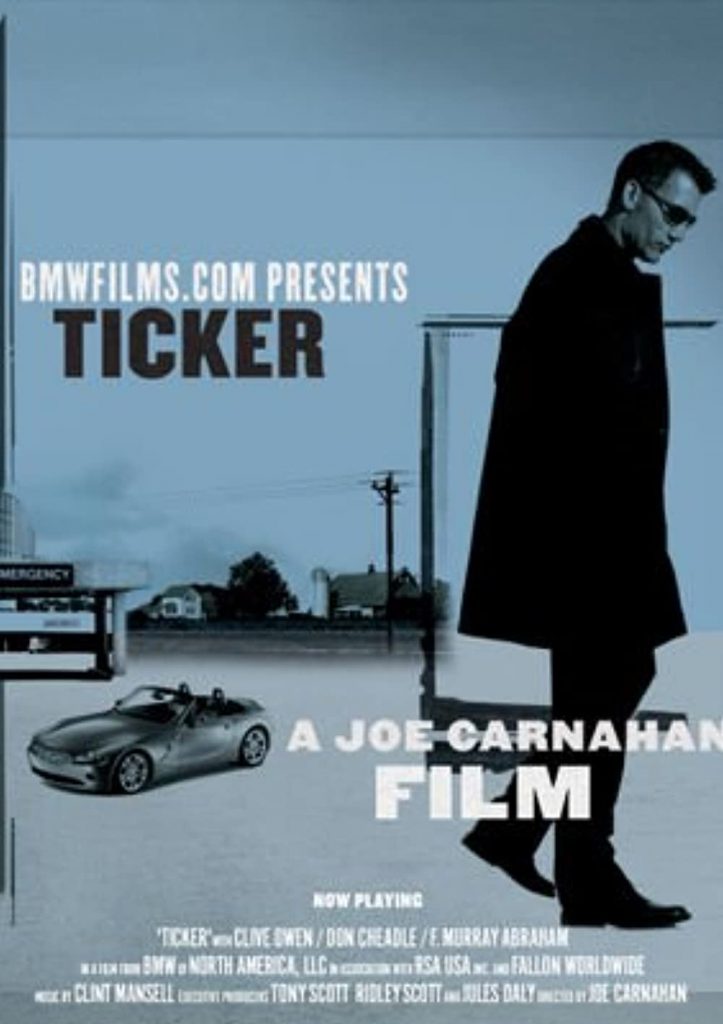 Ticker
2002 · Not Rated · 8min · Color · English
The Driver finds himself in a dangerous, yet highly political situation; this time being pursued by a helicopter gunship while carrying a passenger with a suitcase, the contents of which will decide the fate of a nation.
IMDb rating - 7.6/10 from 4.5K users
Genres - Short · Action · Adventure
Director - Joe Carnahan
Writer - Joe Carnahan · David Fincher(based on an original concept created by) · Joe Sweet(based on a story by)
Stars - Clive Owen · Don Cheadle · F. Murray Abraham
Story line - Storming down a serpentine road in his fast 2002 BMW E85 Z4, the unequalled Driver and his secretive passenger, carrying a leather briefcase cuffed to his wrist, are desperately trying to evade the incessant attacks of a military helicopter. However, while risking life and limb, the Driver refuses to be in the dark any longer. Now, all he needs to know is whether his mission can help preserve peace. —Nick Riganas
Release date - November 12, 2002 (United States)
Countries of origin - United States
Official site - www.bmwfilms.com
Also known as - The Hire: Ticker
Production company - RSA USA · BMW of North America
Sorry, there was no activity found. Please try a different filter.