Ménilmontant (Short 1926)
#mnilmontant1926
Ménilmontant
1926 · 38min · Black and White · None
A couple is brutally murdered in the working-class district of Paris. Later on, the narrative follows the lives of their two daughters, both in love with a Parisian thug and leading them to separate ways.
IMDb rating - 7.9/10 from 2.3K users
Genres - Short · Drama
Director - Dimitri Kirsanoff
Writer - Dimitri Kirsanoff
Stars - Nadia Sibirskaïa · Yolande Beaulieu · Guy Belmont
Story line - In the aftermath of a shocking, brutal axe murder, two young sisters move to Paris, in the impoverished, working-class district of Ménilmontant. To eke out an existence, in the heart of a faceless, bustling-with-people metropolis, the girls make artificial flowers; however, a chance encounter with a handsome but ill-intended man will pave the way for seduction, jealousy, estrangement, and even prostitution. —Nick Riganas
Release date - November 26, 1926 (France)
Countries of origin - France
Also known as - Менильмонтан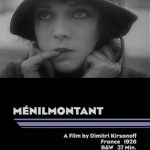 Sorry, there was no activity found. Please try a different filter.